The Future of Finance: Unlocking the Power of Biometrics
How Exactly Does Biometric Technology Work?
Biometric technology works by using unique biological characteristics to identify individuals. Through its use of sensors and algorithms, it can capture and analyse biometric data and compare it with stored data to confirm an individual's identity. This revolutionary technology can work on many different, unique traits, including:
Fingerprints
Irises
Veins
Face
Voice
Face and voice are the characteristics used in Aculab biometric authentication technology, which has a variety of significant applications in the banking and financial industry.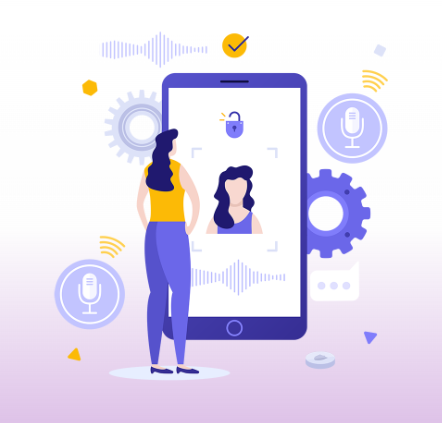 5 Ways Biometric Technology Can Be Deployed in The Financial Industry:
Better personal & commercial data security:
It's no surprise that biometric technology is far more secure when it comes to protecting any kind of data when compared with traditional usernames and passwords. Brute force attacks from hackers are a very real threat and, in the context of banking and finance, this may result in a hacker stealing your highly sensitive data or gaining access to your online banking. It is far harder to replicate a piece of living data that is an integral part of someone else's body than it is to find out a password through brute force. Additionally, biometrics are far more invulnerable to the threat of social engineering when compared to traditional usernames and passwords.
Quicker, easier and more secure:
Have you ever phoned up your bank and been confronted with endless security questions? It takes minutes before they can confirm your identity and give you the help that you need. However, with the power of biometrics you can access this help in a matter of seconds using voice authentication, saving both you and the bank valuable time. Time is also saved when accessing your online banking/banking app, as your identity is verified in a fraction of a second rather than going through the tedious process of typing out a conventional password. Furthermore, nobody can steal your password just by observing what you would otherwise have typed in.
Remote access to confidential financial data:
The days of travelling far and wide to the bank are over! Using biometrics is a simple and easy way to confirm your identity remotely over the phone or through a web-chat. You can access your confidential financial information without needing to go to your bank, or, as mentioned above, answer a long list of security questions.
Increasing physical security for financial institutions:
As well as preventing hackers from stealing your sensitive data, biometrics also have their fair share of uses when it comes to physical security. Biometric authentication has many advantages over physical keys and passwords when it comes to access control. For example, banks and institutions who hold large quantities of cash, gold or other valuables, will benefit greatly from the use of biometrics, as opposed to physical keys, which may be lost, or passwords, which may be forgotten. Also, unlike physical keys which may be stolen or replicated, and passwords which could be acquired through brute force or social engineering, unique human characteristics are practically invulnerable to these issues since they cannot be stolen or replicated (easily).
New way to pay:
Biometric technology even has the potential to be used as part of contactless payments by adding an extra layer of security to the contactless payment process, completely eliminating the need for a payment cap. This would also bring an end to the days of remembering a PIN and physically interacting with keypads altogether.
Why Aculab?
Virtually 100% accuracy
Choose between voice, face or, for ultimate security, two-factor authentication
Presentation Attack (spoofing) Detection for face and voice
Allows individuals the choice of spoken pass-phrases
Easily integrated
Highly scalable
Resilience and redundancy
Find out more about Aculab's Biometric Technologies here.
To talk to an expert, click here.